Arizona is a state built on a strong sense of independence. A right to work state, nobody in Arizona can be denied employment because they're not in a labor union. The state leads the nation in the production of copper and has been a member of the Union since 1912. It's also the home of the famous Gunfight at the O.K. Corral, which led to a range war that sharply divided the region in the late 1800s. Arizona is a place that takes its law and order seriously, and bounty hunters, or bail recovery agents, in this state act to bring in those on the run from justice.
Bounty Hunter Requirements in Arizona
Bounty hunters in Arizona must work for a bail bondsman company. There are no independent bounty hunters in Arizona. While bounty hunters are not licensed, they must be registered. However, the lack of licensure in the state means that the process of becoming a bounty hunter is a bit less formal than in some other states.
Basic State Requirements
Education: There is no formal training requirement for bail recovery agents in Arizona, but training programs are available through the state's Probationary Monitoring Services, which can improve your effectiveness.
Age: Bounty hunters in Arizona must be at least 18 years old.
Degree: No degree is necessary, but many bounty hunters seek some level of certification or a degree in criminal justice.
Experience: All bail retrieval agents in the state work for bail bondsman companies, so the more experience you have in the bail bonds or criminal justice industries, the better your chances for employment.
Citizenship: All Arizona bounty hunters must be Arizona residents.
Find schools and get information on the program that's
right for you.
(It's fast and free!)
Featured Schools
Additional Requirements
Background Screening: Bounty hunters must be free of felonies involving deadly weapons or theft. As such, to become a bail retrieval agent, fingerprinting and background checks must be performed every three years and submitted to the Arizona DOI.
Identification by Employer: The bail bondsman for whom you work must file a report with the Arizona DOI director's office that identifies you as their agent.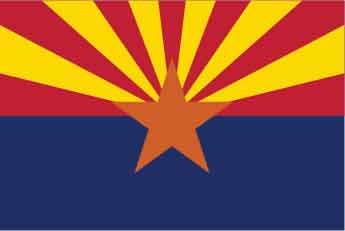 Arizona Bounty Hunter License
Registration Procedure: There is no licensure for bounty hunters in Arizona. However, you will need to register. This requires submitting your fingerprint card with a $22 processing fee, the Bail Recovery Agent Fingerprint Submission Registration form L-BFP, and an ID photograph.
Degrees related to Bounty Hunters
There are several degrees that are closely related to the bounty hunting profession. Pursuing an education in psychology or sociology can help to understand the criminal mind, and criminal justice degrees help to understand legal and criminal procedures.
Discover bounty hunter and criminal justice programs in Arizona that are a match for you!
Major Cities in Arizona
Arizona is a populous state, and bounty hunters are not unknown in the largest cities, including state capital Phoenix, eco-tourism center Tucson, the high-tech haven of Chandler, and Glendale, the hosting city of Super Bowl XLIX.
Job Duties of Bounty Hunters in Arizona
Bounty hunters in Arizona hunt down fugitives from justice on behalf of the bail bondsmen who arranged for the accused to be released from prison. They are required to abide by the law, and in Arizona, this means some very strict provisions. The bond retrieval agent cannot enter private residences without the owner's consent, they cannot tender an arrest without a bail bondsman's written authorization, they may not wear any markings, clothing, emblems or badges that mark them as agents of the state or officers of the law, they cannot identify themselves as anything but a bail recovery agent, nor can they conduct their duties if they have a felony conviction involving a deadly weapon.
Related Careers
The most closely related career to a bail recovery agent is a bail bondsman, and some recovery agents begin their career in this capacity. Other careers related to bounty hunting include law enforcement, private investigation, and process servers.
Employment Numbers in Arizona
Because the BLS (Bureau of Labor Statistics) does not track employment data for bounty hunters, listing estimated figures requires looking at the most closely-related occupation, that of the private investigator. Job openings are expected to increase by almost 25% within the next five years, making this a great place to get a job as a bounty hunter.
Arizona Bounty Hunter Salary
As with employment numbers, the BLS doesn't provide bounty hunter salary data, which is based on earnings by private detectives in the state. In Arizona, as of 2014 people in this field earned on average just over $51,000 per year. The earnings increase slightly in the Phoenix metro area, where the average salary is around $53,000 per year.
Bounty Hunter Programs and Schools in Arizona
Get Your Degree!
Find schools and get information on the program that's right for you.
(It's fast and free!)
Choose your area of study and receive free information about programs you are interested in. Private investigators are used by law firms, law enforcement, insurance companies, as well as individuals to conduct investigations to build criminal and civil cases. A degree related to criminal justice could benefit an aspiring private investigator greatly. Request information from multiple schools to find the best program and educational opportunity for you!