The Keystone State was instrumental in the founding of our nation. It's the home of the Liberty Bell and Independence Hall. It's also the home of the very first baseball stadium, automobile service station and is the chocolate capital of the nation. Like other states, PA has its share of crime, and when people go on the run from justice, they're tracked down and brought in by bounty hunters. If this exciting career sounds right for you, read on to find out how to become a bounty hunter in Pennsylvania.
Pennsylvania Bounty Hunter Requirements
Bounty Hunters in Pennsylvania are not regulated by state law, though the state does allow the practice. In order to legally practice as a bounty hunter, you must be employed by a licensed professional bail bondsman and if you wish to carry weapons, must be firearms certified.
Basic State Requirements
Education: Bounty hunters who wish to carry a firearm in the course of their work must complete firearms training and certification.
Age: You should be a legal adult of at least 18 years old.
Degree: No degree is necessary, but earning education in criminal justice or a similar field can be helpful.
Experience: While not recovered by law, gaining experience working under a mentor can be essential to a successful career.
Citizenship: You must be legally eligible to work in the United States.
Find schools and get information on the program that's
right for you.
(It's fast and free!)
Featured Schools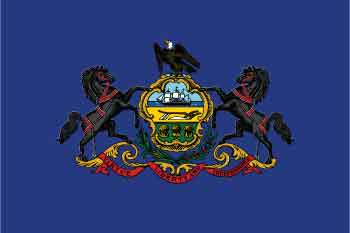 Additional Requirements
Background Screening: Applicants wishing to become firearms certified must be fingerprinted and complete a background check, which carries a $27.50 fee.
Psychological Exam: Firearm certification requires a psychological screening.
Pennsylvania Bounty Hunter License
License Application: There is no license for bounty hunters in PA, but firearms certification carries a $50 fee. Working independently requires becoming a licensed bail bondsman.
Pennsylvania Bounty Hunter Education
Many bounty hunters pursue degrees in areas like criminal justice to improve their skills and knowledge. Other related degrees include law and government, criminal psychology, sociology and forensics.
Discover bounty hunter and criminal justice programs in Pennsylvania that are a match for you!
Major Cities in Pennsylvania
Major Pennsylvania cities where bounty hunters are often encountered include Philadelphia, Pittsburgh and the state capital of Harrisburg.
Job Duties of a Bounty Hunter in Pennsylvania
Bounty hunters are employed by licensed bail bondsmen to perform skip tracing to track down bail jumpers and return them to justice. As such, they have to work in close conjunction with local law enforcement. Bounty hunters should inform law enforcement when they are pursuing a fugitive, and must obey all relevant laws regarding fugitive apprehension.
Related Careers
Bounty hunters operate in a very similar capacity to private investigators, who have many of the same skills and perform closely-related job functions. Court process servers who deal with legal documents are also a related field.
Employment Numbers in Pennsylvania
Employment numbers for PA bounty hunters aren't tracked by the US Bureau of Labor Statistics. However, the bureau does track numbers for private detectives and the fields are close enough to function as a solid proxy. It is expected that employment openings over the next five years will top 100 openings every year for a rate of 11% improvement.
Pennsylvania Bounty Hunter Salary
Salary figures for private investigators, used in proxy for bounty hunters, are around $48,100 average annually.
Bounty Hunter Programs and Schools in Pennsylvania
Get Your Degree!
Find schools and get information on the program that's right for you.
(It's fast and free!)
Choose your area of study and receive free information about programs you are interested in. Private investigators are used by law firms, law enforcement, insurance companies, as well as individuals to conduct investigations to build criminal and civil cases. A degree related to criminal justice could benefit an aspiring private investigator greatly. Request information from multiple schools to find the best program and educational opportunity for you!