Once the forefront of the American frontier, South Dakota has been the home of ranchers, farmers and adventurous workers ever since the Black Hills gold rush of 1874. Long before that, the Dakota territory was the home of the Lakota and Dakota Sioux Indian Tribes, who still maintain a large presence in the state's extensive Indian reservations.
South Dakota also has the fifth lowest population of any U.S. state, but that does not stop it from having crime. 18,688 crimes were reported in 2014, including 20 murders. Bounty hunters are often needed to help catch criminals after they skip bail, creating a need for bounty hunters in South Dakota to aid the bail bond industry.
South Dakota Bounty Hunter Requirements
The Mount Rushmore state has fairly loose restrictions on bounty hunters, called "bail bond runners" or just "runners" in state laws. These laws are primarily outlined in South Dakota Codified Laws Title 58 Chapter 58-22.
To become a bail bond runner, an applicant has to first secure a job with one or more licensed bail bond companies or bail bondsmen. They can then submit an application for a license alongside their proof of appointment. These licenses expire annually in May, requiring re-application every year.
Find schools and get information on the program that's
right for you.
(It's fast and free!)
Featured Schools
Basic State Requirements
Education: No minimum education requirement
Age: 21 years old
Degree: No minimum degree requirement
Experience: Current employment with a licensed bail bond agency or bail bond agent at time of application
Citizenship: Runners must be citizens of the United States and have bona fide proof of residency in South Dakota for at least one year
Additional Requirements
In addition to the above requirements, runners must satisfy the following to be eligible for a license
They must be an individual, not an agency
They must be supervised by appointing bail bonds persons
Applicant cannot have prior convictions nor ever plead guilty or nolo contendere to any felony or any crime involving moral turpitude
Applicant must submit to a State and Federal background check, paying any associated costs
Applicant must submit $30 application fee along with completed application, a passport-style full-face photo and fingerprint cards completed by law enforcement personnel
Applicant must pass an exam; if they fail, they must wait a year to retake the exam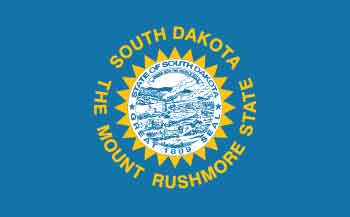 South Dakota Bounty Hunter License
Bail Enforcement Agency License Application: To apply for a license as a bail bond runner in South Dakota, you must submit the following to the Division of Insurance:

$30 application fee
Credential size, full-face photo
Fingerprint cards obtained from the Division of Insurance and completed by law enforcement personnel
Completed background check
Passing grade on South Dakota bail bond runner exam
Letter of appointment from bail bond agency or bail bondsperson

Licensure: If the applicant is successful, they will receive a one-year license that expires on May 1 of every year.
South Dakota Bounty Hunter Education
South Dakota's bail bond runners are vetted by the Division of Insurance, which also manages the licensure and operations of bail bonding agents. Therefore, a bail bond runner may wish to enroll in a program about insurance or finance. They may also want to pursue a degree related to criminal justice, psychology, or sociology to expand their career opportunities in their industry.
Discover bounty hunter and criminal justice programs in South Dakota that are a match for you!
Major Cities in South Dakota
South Dakota has a fairly small population despite its sprawling size. As of 2015, Sioux Falls is the largest city with 171,544 residents. Rapid City is the second-biggest city with 73,569 residents. The third-biggest city, Aberdeen, only has a mere 28,102 residents.
While Sioux Falls and Rapid City have the biggest crime rates in the state, some small cities in South Dakota have some relatively big crime numbers, including Chamberlain along I-90 just east of the Missouri River crossing.
Job Duties of a Bounty Hunter in South Dakota
Once approved, bail bond runners have the authority to arrest persons fleeing from their surety after failure to meet their court date. Runners must operate under the authority and supervision of a licensed bail bond agent.
Related Careers
Careers similar to being a bail bond runner in South Dakota include bail bondsman, process server, and private investigator. You can also pursue a career as a security guard, corrections officer, or law enforcement officer.
Employment Numbers in South Dakota
Data is unavailable for the number of bounty hunters in South Dakota, but there are 60 people employed in the "financial specialists, all other" category on the BLS, which includes bail bonds persons. There are also 1,740 patrol officers, 1,360 correctional officers, and 440 probation officers in the state.
South Dakota Bounty Hunter Salary
Salary information for bail bond runners in South Dakota is unavailable, but those in the BLS' "financial specialists, all other" category, which includes bail bonds persons, have a median annual income of $66,740.
Bounty Hunter Programs and Schools in South Dakota
Get Your Degree!
Find schools and get information on the program that's right for you.
(It's fast and free!)
Choose your area of study and receive free information about programs you are interested in. Private investigators are used by law firms, law enforcement, insurance companies, as well as individuals to conduct investigations to build criminal and civil cases. A degree related to criminal justice could benefit an aspiring private investigator greatly. Request information from multiple schools to find the best program and educational opportunity for you!